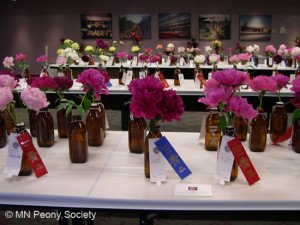 Due to the COVID-19 pandemic, Bachman's on Lyndale has closed the Heritage Room untill September. The 2020 MPS flower show is cancelled!
2020 MPS Annual Peony Show
Saturday, June 6, 1:00 pm to 5:00 pm
Sunday, June 7, 10:00 am to 3:00 pm
Bachman's Heritage Room
Bachmans on Lyndale
6010 Lyndale Avenue South, Minneapolis, MN
Don't miss the region's largest peony show. From the latest intersectional "Itoh" hybrids to traditional, fragrant favorites, there will be hundreds of peonies to view. Singles, doubles and bombs and all colors from white, dozens of shades of pink and red and the deepest burgundy, not to mention corals and head-turning yellows. You'll be amazed at the diversity of peonies that grow in gardens here in Minnesota. Members will be on hand to answer your questions about our favorite flower, the peony.
Set up and Entry Times:
Set up starts at 3:00 PM on Friday, June 5th at Bachman's on Lyndale
Specimen and artistic entries are accepted Friday 3:00 PM to 8:00 PM and Saturday 7:00 AM to 10:00 AM.
Judging of flowers and designs are from 10:30 AM to 1:00 PM. MPS will have a selection of peony flowers to use for your Artistic Design or bring your own.
Space is limited and it can get busy Saturday morning. It is recommended to use the time on Friday for as much prep as possible.
New and Coming!
Starting in 2020 we will have a photo section added. There will be 3 classes of photos, close-ups, macros, and garden photographs with peonies.
The name of the show contest is being moved to the 2019 Fall Auction meeting this September 28, 2019. See the upcoming fall newsletter for details on how to submit your name by September 28th. The winner, as chosen by vote of those in attendance at the fall root auction, will be awarded a $40 dollar certificate for root purchase credit.
The 2020 show schedule will be published by January 1, 2020.